Gates Chili SEPTO (Special Education Parent Teacher Organization)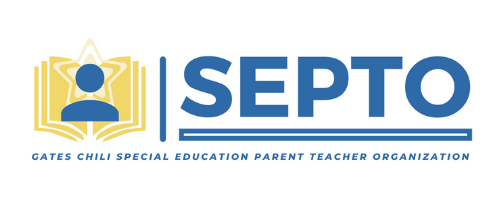 SEPTO is interested in attending building and district level special events and providing a sensory friendly space for families. If you know of an upcoming event, that would benefit from SEPTO please let us know.

July 24, 2023 from 6:30-7:30pm at Paul Road Playground

Join us for Popsicles on the Playground at Paul Road's fenced-in playground behind the school.

October 5, 2023 from 6:30-7:30pm at Walt Disney Elementary Gymnasium

Join us for this back-to-school event.
Mission: To work collaboratively with home, school, and larger community to provide education, support, and connections for students with different abilities.

---
Who We Are

We will introduce our executive committee each week!

KELLY CONLON, AUTISM FAMILY NAVIGATOR

AND DISTRICT PARENT

Hi, I'm Kelly Conlon. I am the proud mother of a special education middle schooler and a Florence Brasser Bear! I'm also a Gates Chili grad myself! I work as a family navigator at AutismUp and the Golisano Autism Center. I get to help families through all facets of special education, give workshops and trainings, facilitate meetup groups for parents & caregivers, grandparents, and now siblings. I love being part of SEPTO that continuously strives for inclusion in our district and community.

---

HEATHER LANGE, SPEECH LANGUAGE PATHOLOGIST

AND DISTRICT PARENT

Hi, my name is Heather Lange. I am a parent in the district, a volunteer and co-founder of SEPTO. It is a pleasure to use my

experience as a Speech Language Pathologist to be a resource for parents, guardians, and care givers in the district. I have always loved science and brains! I enjoy elder care, gardening and anything dark chocolate. While I have never liked TV or movies, classic Pooh makes me smile!

---

DANIELLE LATORE,

COORDINATOR OF SPECIAL EDUCATION P-5 AND HOMESCHOOL INSTRUCTION

Danielle's role as the Coordinator of Special Education K-5 entails supporting and overseeing the elementary programming for in and out of district students. I work closely with teachers, related service providers, administrators, and families to ensure students receive appropriate supports. Monitoring regulations and best practices is also a function of this role. In addition to the above responsibilities, I oversee services and supports for students that are parentally placed in private schools in the district.

Fun Facts about Danielle:

Do you have any pets? I have a 5 year old black lab named Riley.

What was your favorite book as a child? The Lion, the Witch and the Wardrobe

Who was your favorite cartoon character when you were a kid? Wonder Woman old black lab Riley. My favorite book when I was a child was The Lion, the Witch and the Wardrobe. My favorite character when I was little was Wonder Woman.

---

JULIE STARK, COORDINATOR OF SPECIAL EDUCATION GRADES 6-TRANSITION

Julie provides additional oversight over the special education department as determined by the Assistant Superintendent for Student Support Services. The main responsibility of the Coordinator of Special Education is to assist with the development and coordination of services for students with special needs at the secondary level for students enrolled in either district based or out of district educational placements. Providing oversight with regards to multiple graduation pathways and transition planning ensures that students are meeting with success as they exit school age programming.

Fun Facts about Julie:

What was your favorite subject in school? Band!

What is your favorite book? All Creatures Great and Small by James Herriot

Who was your favorite cartoon character when you were a kid? Pink Panther