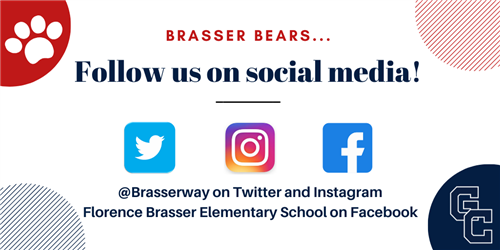 Welcome to the Florence Brasser School Website
Brasser Elementary welcomes the family–school partnership:
*We look forward to working with you and your child in learning. How will you learn together alongside your child to support their education?
*We look forward to working with families in providing opportunities for meaningful feedback and input in assisting our school. How will you support your child and school in leading together with us in making Florence Brasser the best school possible?
*We look forward to celebrating great accomplishments together. How will you work with us in supporting your child's academic achievement & growth?
May, 2021
Dear Brasser Families,
Brasser Way Pajama Day was a Success!
On March 25th and 26th, Brasser students and teachers enjoyed a relaxing approach to Spring Break… in PAJAMAS! Throughout the month of March, our Brasser Bears have been showing lots of respectful behaviors and our staff has been acknowledging the efforts. Brasser Bears have shown RESPECT in the following ways:
R- regard other's feelings
E- encourage others
S- speak kindly
P- pay attention to the person speaking
E- everyone deserves respect
C- clean up after yourself
T- take care of your belongings
We will continue to focus on the Brasser Way trait of respect through April. Classes are engaging in a friendly competition to share their respectful behavior. The grade level that earns the highest percentage of red tickets for showing respect will receive a Brasser water bottle! Additionally, the classroom with the most tickets will get a Brasser Spirit trophy! When we wrap up the month, ALL students will get to enjoy a yummy popcorn snack. Please encourage your Brasser Bear to show the Brasser Way at home as well!
Finally, thank you to our parents for working so closely with us to support our students. We look forward to working with you to ensure instruction continues throughout this all by partnering with you and your most treasured resource…your child.
Thank you for partnering with us on the 2020-2021 school year adventure!
Sincerely,
Timothy Young
Principal
Rebecca Scott
Assistant Principal