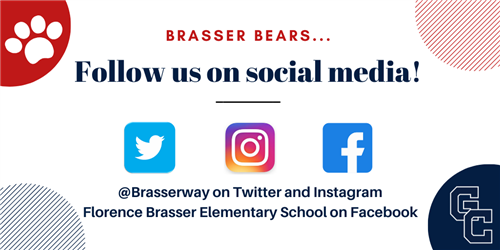 Welcome to the Florence Brasser School Website
Dear Florence Brasser Families,
"Together we teach and inspire excellence for all learners." -District Mission
"Learning, Leading and Achieving TOGETHER" -Building Vision
Brasser Elementary welcomes the family–school partnership:
We look forward to learning with you and your student. How will you learn together alongside your student to support their education?
We look forward to working with families in providing opportunities for meaningful feedback and input in assisting our school. How will you support your student and school in leading together with us in making Florence Brasser the best school possible?
We look forward to celebrating great accomplishments together. How will you work with us in supporting your student's academic achievement growth?
We are thrilled to welcome to Florence Brasser Elementary School for the 2022-23 school year! We are looking forward to seeing all students on the first day of school on Tuesday, Sept. 6.
School Supplies
Supply lists are posted at gateschili.org/FBsupplies. If you have any questions or are unable to fulfill any of the items on the list, please contact the main office at (585) 247-1880.
Meals at School
The Gates Chili Central School District believes one of the most important ways to help students perform better in their classrooms is to provide them with the nutrition necessary for the healthy growth of their minds and bodies.
For the 2022-23 school year, meals may be purchased in our cafeteria using the district's new meal purchasing platform, MySchoolBucks. This free service allows families to view account balances, deposit funds using a credit card or electronic check and view purchase history. Look out for more information on MySchoolBucks later in August.
In the meantime, all families are encouraged to complete a free/reduced meal application available on our website at gateschili.org/FreeReducedApp. Applications are accepted throughout the school year.
SchoolTool Parent Portal
All Gates Chili schools utilize SchoolTool to manage student information. Parents/guardians may access the SchoolTool Parent Portal to update emergency contact information, to view new year teacher assignment, attendance records and progress reports.
The primary parent/guardian listed in your student's record will receive an email notification from SchoolTool with the subject line "SchoolTool Portal Account Creation Notice" prompting them to create an account. Once an account is created, please use the enclosed guide to navigate the SchoolTool Parent Portal. Visit gateschili.org/ParentPortal for more information.
We will continue to share ongoing updates and important reminders leading up to the start of the school year. Be sure to follow our social media accounts @brasserway on Facebook, Instagram and Twitter!
Sincerely,
Tim Young, Principal
Erin Ugine, Assistant Principal