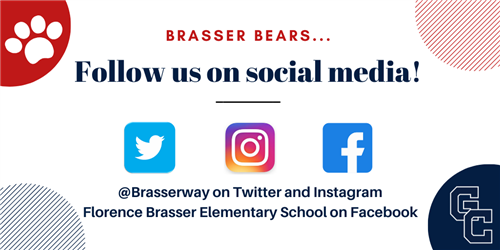 Welcome to the Florence Brasser School Website
Dear Florence Brasser Families,
We would like to welcome students and their families to the 2021-2022 school year. The first day of school for students is Thursday, September 9. We look forward to welcoming our Bears back 5 days per week! All students and staff are required, at this time, to be masked indoors and on buses, regardless of vaccination status. Outdoor masking is optional.
Lead Learners for this school year will be Principal Tim Young and Assistant Principal Rebecca Scott. Mr. Young has been the lead administrator at Florence Brasser for the past 12 years. Mrs. Scott is excited to be at Brasser for a second year after serving 5 years as an assistant principal at the Gates Chili Middle School. We extend a heartfelt greeting as we commit to serving as your building administrators for the upcoming 2021-2022 school year.
"Together we teach and inspire excellence for all learners." -District Mission
"Learning, Leading and Achieving TOGETHER" -Building Vision
Brasser Elementary welcomes the family–school partnership:
We look forward to learning with you and your student. How will you learn together alongside your student to support their education?
We look forward to working with families in providing opportunities for meaningful feedback and input in assisting our school. How will you support your student and school in leading together with us in making Florence Brasser the best school possible?
We look forward to celebrating great accomplishments together. How will you work with us in supporting your student's academic achievement growth?
Academic excellence has always been an expectation at Brasser Elementary and we will continue to strive to achieve these expectations. In preparing students for their future, we will continue to embrace 21st century learning opportunities. This could include, but is not limited to, integrating technology and STEAM into our instruction. We embrace the use of technology to enhance our curriculum and engage students. Students will be expected to learn to take more ownership of their learning and will be provided opportunities to show their understanding in ways that make sense to them.
Just as reading, writing, and math are important in school, so is social-emotional development. We want our students to learn skills and attitudes to help them manage emotions, build positive relationships, demonstrate empathy, and set goals for themselves to achieve success. We will be supporting this work by continuing to develop our own understanding of cultural diversity, equity and inclusivity. Relationships are at the heart of understanding student behavior and culture.
We will provide this in a safe, warm, nurturing setting based on our Brasser Way – Respect, Responsibility, Compassion and Hard Work. Especially this year, we are asking students to be eager to learn and look to you, their caregivers, to provide the guidance, nurturing and support in collaboration with the Brasser staff to ensure that they will be successful.
The Brasser learning community feels very privileged to be a part of these important years during which we will have the opportunity to work with you and your most treasured resource…your student. Brasser Elementary is a great place for learning. We invite you to join us, come along side and be a part of the Brasser experience!
Sincerely,
Timothy Young, Principal
Rebecca Scott, Assistant Principal