Welcome to Neil Armstrong Elementary School!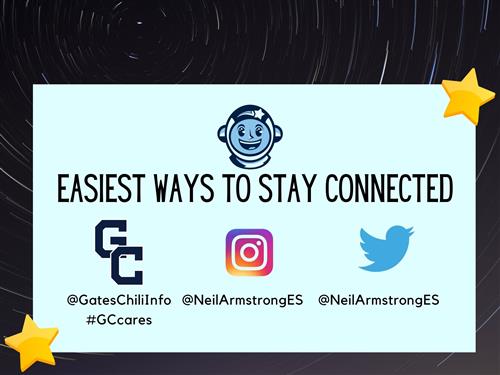 For the most up to date information, please consult our district website updates at: ww.gateschili.org and be sure your email address is up to date and in our School Tool Parent Portal so you can receive information through our emailed Bulletins.
You can also click HERE for the most recent News & Updates at Neil Armstrong.
How can families get involved?
ALL: Use the SCHOOLOGY platform to see your child's assignments!

ALL: Read the "Space Log Bulletins" sent via email.

ALL: Check Parent Portal for census information; attendance, progress reports, and laptop user agreement information. The website for this is gateschili.org/ParentPortalAccess.

ALL: Highlight and attend Neil Armstrong events

ALL: Attend our Neil Armstrong Parent Teacher Organization (NAPTO) meetings (free!).

Ask your child's teacher about signing up for Neil Armstrong social media:

Start by signing up for the school's Twitter feed: @NeilArmstrongES
Most teachers also have their own social media site for their individual class and will share this information with you.
Hashtags to follow are: #nas2021, #gccares and #gcpride.


Neil Armstrong is an inclusive, friendly and close-knit neighborhood school. We embrace our rich traditions at the same time that we embrace the student centered, technology rich instruction that prepares and engages our students in life in our 21st Century. Our community is strong. We are proud of our diversity. We are committed to enthusiastic and active promotion of our District's Moral Imperative Statement. Our Spartan Way and our joint commitment to our children knit us closely together. We invite you to join us in our efforts to create a joyful place for children to learn about their community, their world and the world yet to come


If you have any questions or concerns, please feel free to contact us by calling the main office or e-mailing jeannine_bezon@gateschili.org. Thank you very much for entrusting your child to our care.
Sincerely, and on behalf of the staff of Neil Armstrong Staff: Shine on!
Jeannine Bezon, Assistant Principal