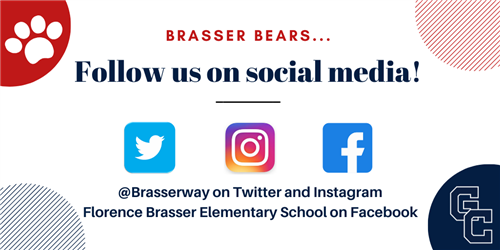 Welcome to the Florence Brasser School Website
Dear Florence Brasser Families,
"Together we teach and inspire excellence for all learners." -District Mission
"Learning, Leading and Achieving TOGETHER" -Building Vision
Brasser Elementary welcomes the family–school partnership:
We look forward to learning with you and your student. How will you learn together alongside your student to support their education?
We look forward to working with families in providing opportunities for meaningful feedback and input in assisting our school. How will you support your student and school in leading together with us in making Florence Brasser the best school possible?
We look forward to celebrating great accomplishments together. How will you work with us in supporting your student's academic achievement growth?
Our school year is off to a great start! This month students have been learning about how to show the Brasser Way (Respect, Responsibility, Compassion and Hard Work) throughout our school - in the classroom, hallways, cafeteria and on the playground.
As a school community, we will be focusing on each of these four traits throughout the year, through special assemblies, learning activities and celebrations of students showing the Brasser Way. A common thread throughout the year that students will be familiar with is the idea of being a Bucket Filler. Demonstrating the Brasser Way fills the buckets of those around us. There are lots of ways to be a bucket filler at home too - see how many your family can come up with.
Our first focus trait for the year is RESPECT! We kicked off our focus on RESPECT in a special assembly this week. Student leaders led our assembly, sharing examples of how to show respect here at school and be a bucket filler. Great job students!
Sincerely,
Tim Young, Principal
Erin Ugine, Assistant Principal