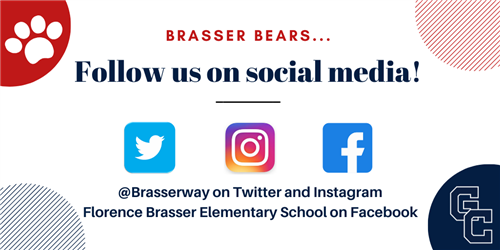 Welcome to the Florence Brasser School Website
Dear Florence Brasser Families,
"Together we teach and inspire excellence for all learners." -District Mission
"Learning, Leading and Achieving TOGETHER" -Building Vision
Brasser Elementary welcomes the family–school partnership:
We look forward to learning with you and your student. How will you learn together alongside your student to support their education?
We look forward to working with families in providing opportunities for meaningful feedback and input in assisting our school. How will you support your student and school in leading together with us in making Florence Brasser the best school possible?
We look forward to celebrating great accomplishments together. How will you work with us in supporting your student's academic achievement growth?
Thank you for your ongoing support during these busy Spring months. May is full of exciting events including:
Teacher Appreciation Week - May 2nd - 6th
Band/Chorus Spring concert - May 11th
Annual Budget Vote and BOE Election - May 17th
Student Council Car Wash - May 21st
5th to 6th Grade Information night - May 25th
Looking ahead to June - our fabulous FBFA will be hosting an End of Year Celebration on Friday evening, June 10th! Families, friends, food trucks, Coach Ormsby spinning tunes...it is sure to be a memorable event. Additional details can be found below.
Tim Young, Principal
Erin Ugine, Assistant Principal