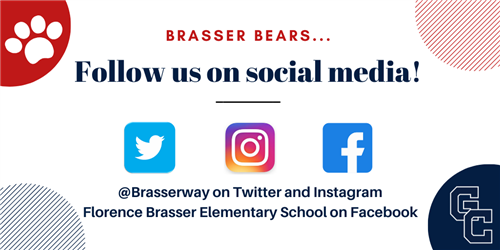 Welcome to the Florence Brasser School Website
Dear Florence Brasser Families,
"Together we teach and inspire excellence for all learners." -District Mission
"Learning, Leading and Achieving TOGETHER" -Building Vision
Brasser Elementary welcomes the family–school partnership:
We look forward to learning with you and your student. How will you learn together alongside your student to support their education?
We look forward to working with families in providing opportunities for meaningful feedback and input in assisting our school. How will you support your student and school in leading together with us in making Florence Brasser the best school possible?
We look forward to celebrating great accomplishments together. How will you work with us in supporting your student's academic achievement growth?
We hope you have had a happy, healthy, and restful holiday season! December was a month filled with compassion and connections here at Brasser. As a school community, we have been focused on showing compassion to one another and are looking forward to connecting with you at home on several projects during the month of January....stay tuned for more information on our "Blizzard of Compassion" and "Soup-er Bowl" service project later this month.
Connections between grade levels continue to grow.... Recently, buddy classrooms worked together to create cards for members of our school community, played board games with one another, and collaborated on other special projects for our school.
We enjoyed having family members join us at school for several grade-level events in December - keep an eye out for more opportunities to spend time with us here at school in the coming months.
Sincerely,
Tim Young, Principal
Erin Ugine, Assistant Principal