Return to Headlines
BUILDING A CHAMPIONSHIP CULTURE: Cheer success starts with a strong base
May 1, 2023
"Like a dream." That's how senior Kayla M. describes her experience at the New York State Public High School Athletic Association (NYSPHSAA) Competitive Cheerleading Championships. She and her Gates Chili Varsity Cheerleading teammates are flying high after a history-making trip to states.
The squad qualified for the championships for the first time ever after coming in second in their division at winter sectionals. It was a huge feat, and the excitement spread far beyond the team. Before they departed for the March 4 championships, the entire high school lined the halls to cheer on the cheerleaders as they were led out of the building by the drumline.
"Honestly, it really didn't even matter if we placed or made it to the second round, just going was incredible because we made history," said team member Olivia L., a junior. After making it to the final round, the team did place, coming in fifth in the Division 2 Small Squad Class.
"It's been a huge honor, and we've really worked hard to progress and grow and get to this point as a team," said Kayla, who received a sportsmanship award at the competition. "We've definitely shown what we can bring to the table."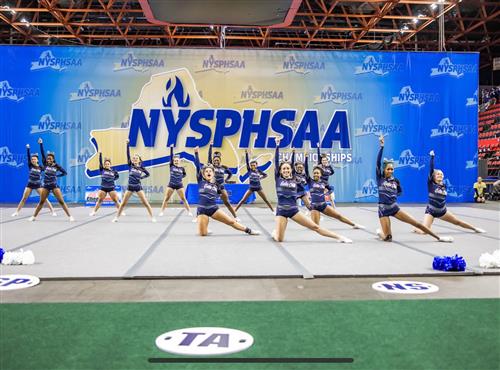 According to Coach Brittany Marciniak, who has been with the team for six seasons now, their success was a long time coming and a matter of overcoming self-doubt.
"They came in, they worked hard, they didn't complain. Everyone had internal motivation to do well, said Marciniak. "They wanted to be strong, they wanted to come together, they wanted to show everybody that not only cheer in general, but their cheerleading team here at Gates is just as strong and powerful as anybody else's." said Marciniak.
And with a robust returning team and a commitment to putting in the work in the off-season, the squad is looking to go even further next year.
"I think we know what we need to do to win the sectional championships and win the state championships," said Olivia.