Return to Headlines
Signed, sealed and delivered by Stars
March 14, 2023
Friday afternoons at Neil Armstrong Elementary School have become
synonymous with celebration. At 3 p.m.each Friday, fifth-grade student workers drive the Armstrong Prime cart around the school, delivering student orders of pencils, notebooks, fidget toys and more — all paid for with good behavior.
"When you go to the class, the kids get so excited. Even if it's just like a
notebook or like a folder, they're like, 'Oh, yeah, I finally got it! I've been
waiting all week,'" said Noah T., who serves as one of the school store team members.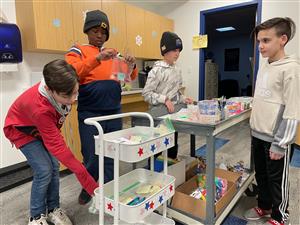 This initiative based in PBIS, or positive behavior intervention and supports, creates a school environment where everyone feels empowered and encouraged to do the right thing. Students earn "Star" bucks by showing the Spartan Way: respect, responsibility, compassion and hard work. They can use those bucks to pay for items from the store.
Teacher aide Anita Battaglia, who was once an Armstrong student herself, has supervised the school store for almost 20 years in some capacity. This year, she played a big role in revamping the store's structure. The entire operation is a well-oiled machine where students fill orders on Wednesdays and Thursdays and make their deliveries on Friday. Throughout the process, students are learning important lessons in time management, attention to detail and communication.
"The student workers are really in charge of this. When we go into a
classroom, they announce themselves and take ownership of the process," said Battaglia. "This initiative is also important for the students who are receiving orders. It's recognition of the
Spartan Way values they had to show in order to earn the 'Star' bucks to buy their items."
Working in the school store is just one of many jobs available to students at Armstrong. The jobs range from kindergarten and staff helpers to teachers in training and even technology team. Fifth-graders who are interested in school jobs have to create a resume, apply for the job they want and even participate in an interview.
"This job gives me a little bit of work experience for later in life," said student worker Caden J. "We have to work together as a team. Sometimes items are backordered so we have to tell them and then fill their order when the items come in."
School store employee Joey P. shared that his job helps him work on important skills, "I have to announce who the order is for when we're
delivering, so I have to make sure they hear me, and it's a relief when they do."
"We shared job descriptions of all the available jobs with the students so they could see which may suit their interests or skills," said Rebecca Scott, principal. "These early building blocks for career readiness are important as fifth-graders prepare for middle and high school."
But for the student workers, this opportunity is more than just a job. It's an opportunity to model behavior for younger students. Noah T and
John C. shared, "Working in the store, we show the Spartan Way too. "It's our responsibility to get the orders, get them packaged and delivered correctly. And it's hard work. We don't have much time in the afternoon so we have to work hard."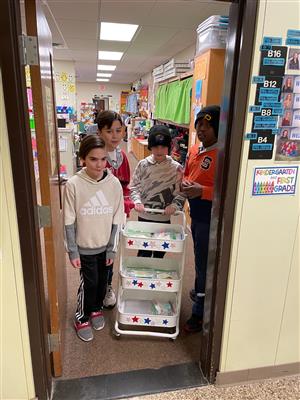 "The little kids get really happy when they see us," said Joey. P. "They might want to do the store when they get older and give other younger kids prizes and orders as well. And if they do, they'll have to follow the Spartan Way like we do in the store and that would help them."