Return to Headlines
Spartan sisters shatter diving records
They're Spartans, they're sisters, and now Heidi Tran and Kailey Tran are Gates Chili record-setters. In recent weeks, the two student-athletes have shattered decades-old diving records.
Breaking a school record is an incredible feat for any student-athlete, but even more impressive for the Tran sisters, who are new to the sport. Sophomore and former gymnast Heidi joined the swim team last year. When coaches saw her wearing a gymnastics shirt, they encouraged her to pursue diving too. Then after finding out that Heidi's sister was also a former gymnast, they encouraged Kailey to join this year's team.
After their first meet of the season, the sisters found out that they were close to beating the school's six-dive record. At the next meet, Kailey pulled it off, breaking the 41-year-old record with a score of 184.25. Two days later, Heidi beat Kailey's record with a score of 184.35. At the next meet, both sisters broke the record again, but Heidi held on to the honor with a score of 191.85.
The sisters went back and forth beating each other's six-dive record for the remainder of the season, with Kailey going on to beat the 11-dive record, set by Rhyan Nolan in 2021, too. The original six-dive record was set in 1981 by Karen Bloechl, now Nowicki, who was a junior at the time. Nowicki still lives in the district and follows Spartan athletics.
"I've been teasing [current Gates Chili diving coach] Nancy [Sheridan] all this time that, 'Gee, she would have thought someone would have broken it by now. 41 years is a long time.' But it's so fun," said Nowicki. While Nowicki did not continue her diving career after high school, she said the skills she learned as a student-athlete have helped her throughout her life. Her advice to the sisters is to, "enjoy it while it lasts and take great pride in your accomplishments. Hopefully, your record will last for 40 years too."
While some might think the competition for the record might cause some tension between the sisters, they say that's not the case. In fact, they said, it's brought them closer together.
"We've always been not super competitive but kindly competitive. We goof around and it's not really about competition but performing together," said Heidi.
"We are always encouraging each other and are always proud of each other when the other one breaks the record because we're always trying to see who can break it first, and we're always just proud of the other one if they end up breaking our record," added Kailey.
At the end of the regular season, both sisters remain record holders. Heidi keeps the six-dive honor with a score of 207.45, and Kailey holds on to the 11- dive record with 310.95 points.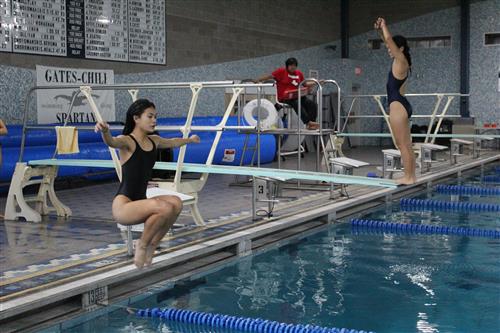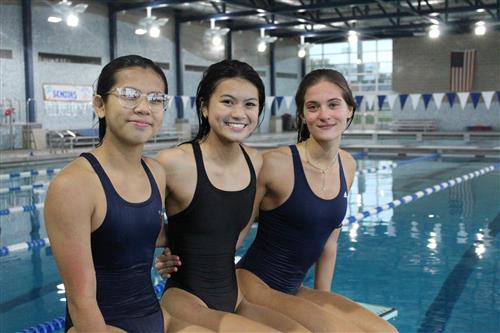 Heidi and Kailey with their teammate Matilde