Return to Headlines
Neil Armstrong students "walk the walk" to raise funds for Ugandan Water Project
A startling revelation in a science class unit spurred Neil Armstrong Elementary School's fifth-grade classes into action this month, and inspired them to get involved in improving the lives of students halfway around the world.
Carissa Binger, a fifth-grade teacher at Neil Armstrong, said students were shocked to learn during a science unit on water that less than one percent of the available water in the world is safe to drink. She explained this unit lead to conversations about how our community accesses water, and research into how people around the world access and use water.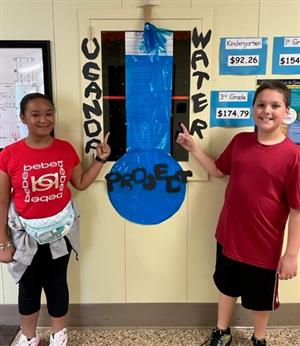 Ugandan Water Project is a registered non-profit based in Lima, New York that raises funds for and installs water catchment and purification systems in communities without consistent access to potable water. Binger says the Project came to her attention through a friend, and the group's school outreach team organized an assembly to discuss how these water systems help communities and students in Uganda.
Teacher Stephani Wells said that she and her fellow teachers also added instruction on water inequality, access and health to their students' lessons. During ELA lessons, books about the social justice perspective of water access struck a chord with the students, especially about how the burden of getting water for a family often falls harder on girls.
"Our students were very moved by this and taken aback by the gender inequality," said Wells. "Another story, 'Fetching Water,' focused on the impact on the schooling of those children who had to take walks for water and how that would impact their future opportunities in adulthood and create hurdles for them following their dreams."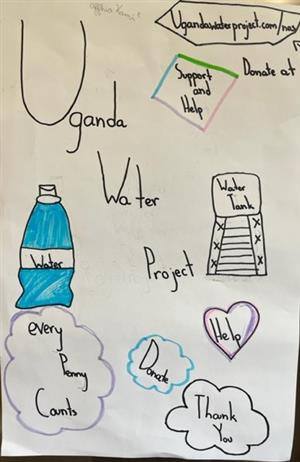 For the fifth-graders and their teachers, this was a call to action! They organized awareness and fundraising campaigns, like a loose-change collection contest and daily announcements to the school. They designed posters and put them up for other students to learn about water access. They also organized an online donation page. The campaign's original goal was $1,800, or half the cost of a rainwater catchment and filtration system, but Binger said the students are reaching higher.
"Students have raised over $1,500 in online donations and our school's 'Change War' has brought in over $1,000. We are blown away by the support of our families and school," said Binger. "Once students saw we exceeded our goal, they immediately responded with cheers to go for the full rainwater collection system at $3,600."
The class is well on its way to meeting that goal, and students are planning to "walk the walk" in solidarity with students across the world without access to water. On May 23, the fifth-graders will walk a mile outside the school to raise awareness and more funding for the project. They'll also take their ELA skills to the community; students have been using what they've learned in an argumentative writing unit to write persuasive letters.
"At this point, we are trying to get the Gates community involved, so students are brainstorming where they should drop off the letters. We are so close to reaching our goal and changing the lives of students in Uganda," said Binger.