Return to Headlines
GCMS Spartan Happenings Monday, November 4, 2019
Today is...
Monday, November 4, 2019
It is a "B" Day
There are late buses today.
---
---
The Spartan Way Every Day
Respect, Responsibility, Compassion, and Hard Work
---
---
Upcoming Events:
GCMS Holiday Food Drive November 4th thru 15th, 2019 (details below)

November 5, 2019 School Picture Make -Up's

November 11, 2019 - No School, Veterans Day

November 13-15 Middle School performing "The Wizard of Oz"

"Telescope Night" November 13, 2019 6:00pm at the High School (see details below)
---
---
1. Make A Difference Club is sponsoring the GCMS Holiday Food Drive to provide 25 families with a Thanksgiving dinner. Donations of non-perishable food items are welcomed starting today November 4th running thru the 15th. Please consider bringing in food items. You can place them in a box near the Main Entrance or in the Community Offices. Click here for more information on the GCMS Food Drive
2. There is no Chess Club today, Monday November 4, it is rescheduled for November 25, 2019.
3. The Gay Straight Alliance (GSA) will be meeting today Monday, November 4, 2019 at 3:00 in the counseling office group room. Please join us as we come together to support one another and make GCMS a warm and inclusive place to be! All are welcome!
4. There is a Yearbook meeting on Monday, November 4, 2019 in the Lunch detention room.
5.
The Make A Difference Club will meet on Wednesdays: November 6, 2019, and November 13, 2019. We will be in Room 303 after school. All are welcome!
6. "Telescope Night" Free Astronomy fun for families. Wednesday November 13, 2019 at 6:00pm at the High School, Room 500, Door #28. Click here for more information on Telescope Night, and click here for Registration for Telescope Night
---
---
Book Commercials
"Wait till Helen Comes" by Mary Downing Hahn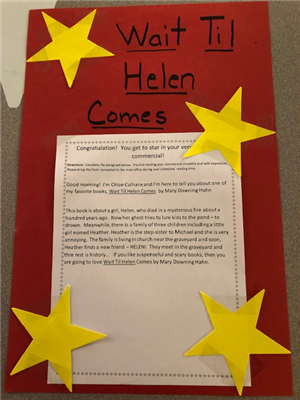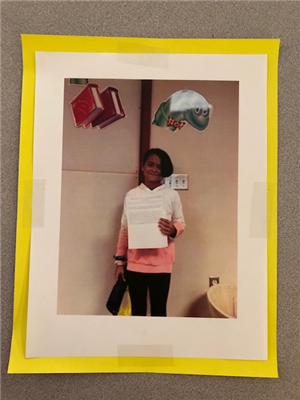 ---
---
Contests/Outside Activities:
The Fall Family Fest - Harvesting Health & Wellness in Our Community which takes place on Thursday, Nov. 7th 5:30-7:30pm in the Field House. Click here for more information on the Fall Family Fest
---
GCMS Agape Club is collecting items for an organization called Operation Christmas Child. Show your Spartan compassion by donating small hygiene products like toothbrushes, hair brushes, wash cloths, and hand towels. Scrunchies, head bands, and school supplies are also needed. There are collection boxes in the community offices and the cafeteria. Thank you for helping the less fortunate this Christmas!
---
Attention 8th graders if you are looking for a fun way to volunteer and make a difference in someone's life, you might want to check out the TIES Program.
Please contact the TIES Program Coordinator at 585-764-1390 or email tadalykas@gmail.com.
---
The New York State Office of Information Technology Services' is once again hosting the "NYS K-12 Kids Safe Online Poster Contest."
The contest has five entry categories: Kindergarten
–Grade 2, Grades 3-5, Grades 6-8, Grades 9-12 and Special Education. New York State winners will be displayed in the 2021 NYS Kids Safe Online Calendar and entered into the MS-ISAC National Computer Security Poster Contest.
Don't miss out! The contest entry deadline is December 9, 2019.
---
---
Other Information:
Drop off and Pick up location is at Door #9 behind the school by the cafeteria. You can be dropped off beginning at 7:35 am. In order to be on time to first period, which starts at 7:58 am you need to be dropped off no later than 7:45 am.
---
If you have lost any items such as clothes, shoes, lunch pail, water bottles, books, backpacks, etc... Please check the lost and found in the Cafe!
---
Click here for PTO information and dates for the 2019-2020 academic year.
---
Volunteer Opportunities at GCMS see attached any questions please contact Ms. LaManna.
Click here for Volunteer information
Click here for the Volunteer Form
---
---
Wellness Wednesday Message is brought to you by the Health Department:
Did you know that being exposed to second hand smoke can be harmful to your health? If you have a family member or friend that smokes ask them if they could smoke outside and not smoke in the car with you. It's okay to be proactive about your health.
---
---
Library News:
The Library is closed after school on Tuesdays.
Happy Reading
---
---
Athletics:
GCMS Intramural days will be by community. Monday's will be for Amerks only, Wednesday's Redwings only, Thursday's are Rhino's only, and Fridays all communities are welcome. Sign up on your day during your lunch period. Friday's sign up is before homeroom and spots will be limited.
Fall Sports are coming to a end! Show your Spartan Pride and attend a game. As a reminder, any Middle School student who wants to attend a sporting event after school, must be accompanied by a parent or guardian. Click here for events starting November 4 thru 11th
Our Winter Varsity/JV season begins next week. Track, Cheer and Modified teams begin 11/18. Registration process:http://www.familyid.com/gates-chili-central-school-district-athletics
---
---
Word of the Day:
wane; to decrease gradually in size, amount, intensity, or degree
My patience begins to wane when a rude student interrupts class.
---
---
Upstander Phrase of the Day:
Go confidently in the direction of your dreams! Be an Upstander as many times as you can today!
---
---
Artist of the Day - Maxwell 8th grade