Return to Headlines
Fifth-grader takes first place at Paul Road's Annual Geography Bee
Paul Road Panthers took a trip around the world this week as the fourth and fifth-grade Geography Club hosted its sixth annual Geography Bee. Parents, teachers, and fellow club members gathered as principal Peter Hens and Amy Deni, a second-grade teacher and the Social Studies Content Leader, moderated the competition.
"Several years ago, Mr. Hens and I wanted to create a Geography Club to inspire curiosity about the world, and to offer an alternate activity to students who are interested in learning more," said Deni. "The Bee is a culmination of what students have learned through various geography activities."
In the past, Paul Road students have been part of the National Geographic Geography Bee. National Geographic discontinued the competition, so club advisors Deni and Brittany Porter created their own version. They worked with club members for over six weeks to prepare for the competition.
All 20 club members underwent a preliminary round, and the top performers earned a spot in the finals. If a contestant answered two questions incorrectly, they would be eliminated at the end of the round.
In the first two rounds, students were asked questions on U.S. and continent-related topics. In round three, general world questions were asked until two contestants remained.
For the championship, contestants were asked the same three questions, writing their responses on their whiteboards. Both contestants answered all three correctly, resulting in a tiebreaker round and sudden-death elimination. The final question asked was, "Amelia Earhart went missing in 1937 while attempting to fly around the world with her navigator, Fred Noonan. The crash site is believed to be near Nikumaroro Island. Nikumaroro Island is a part of Kiribati, located on what ocean?"
Fifth-grader Antonio Chinchilla answered correctly with the Pacific Ocean and was crowned the champion! Fifth-grader Chase Anzalone took second and fourth-grader Taj Pandher came in third. Congratulations to all the Paul Road students on their achievements!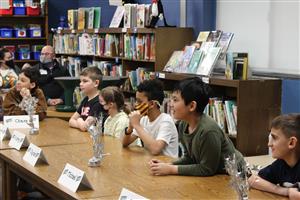 Above: Paul Road students prepare for the Geography Bee in the Paul Road library.