Performing Groups
4th and 5th graders at Neil Armstrong can perform in several concerts each year.

All 4th & 5th grade general music students prepare performance pieces as part of the regular general music curriculum.

Some 4th and 5th grade students, chosen for their musical abilities, interest, and participation in class, can participate in

the Before-school Chorus.

Some 5th grade students will be asked to participate in the 5th Grade District Chorus to perform on a

districtwide concert with 5th graders from all four elementary schools.

Many students will choose to begin band instrument lessons with Mr. Holman.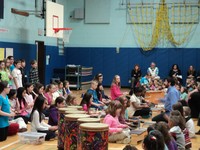 Related Links
Mr. Holman's Website

Contains all the information you need for instrument lessons and Band!